Pacific Southwest District
LWML 60th Anniversary Convention
June 9-11, 2006

Scriptural Theme


"Give thanks to the Lord, call on his name, make known among the nations what he has done." Psalm 105:1 NIV

Mission Statement
The mission of the Pacific Southwest District LWML 2006 convention is to assist each person attending to grow in his or her walk with the Lord and, with thankful hearts, share and celebrate Godís grace with all.

Priorities and Goal Statements
Personal Spiritual Living. Convention attendees are nurtured and spiritually renewed through Bible study, singing, speakers, and interest sessions to a closer personal walk with God ó Father, Son, and Holy Spirit.

Partnering for Diversity. Christian fellowship and opportunities for service and celebration are strengthened by including sisters of varied ethnic, cultural, generational, and organizational backgrounds in planning and carrying out the convention program and activities.

Celebrating Godís Gifts of Ministry. Convention attendees will joyfully celebrate Godís gifts in worship and service opportunities.

Daily Themes
Friday, June 9 ó Celebrate and grow with thanksgiving for Godís grace.
Saturday, June 10 ó Celebrate Godís love and His invitation to be His child.
Sunday, June 11 ó Celebrate and make known Godís grace ó all He has done.

Registration


A convention registration form and a hotel reservation form are included in this issue of the WOW. Please read and follow all instructions carefully. Keep a copy for your records. Convention registration deadline is May 6, 2006. No refunds after May 31. Hotel reservations should be sent in early. The cutoff date for lower room rates is May 9, 2006.

Nominations


If you are interested in using your spiritual gifts and are willing to become a candidate for a district office, please contact Melissa Salomůn at melissa@cptln.org.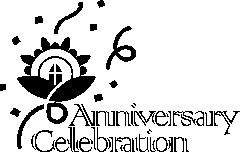 ________________

Quarterly serves as LWML outreach tool

The Lutheran Womanís Quarterly is a major outreach tool of the LWML. Our goal is to place the Quarterly into the hands of every woman in our congregations and communities.

Please remember, unless your society is paying for each Quarterly they receive, the funds come out of mite offerings.

If your society is able to cover the subscription cost of each Quarterly ó great. If not, consider making at least a partial contribution. You might even consider a special fundraiser to cover this cost.

In either case, please continue to distribute the Quarterly as widely as possible. Our LWML Mission Statement encourages us to assist women in their relationship with the Lord.

Lutheran Credit Union
offers no-fee accounts

If your society or zone is paying monthly checking or savings account fees, consider switching your account to the Lutheran Credit Union. They will honor our district federal ID# to avoid charging you fees. Deposits and withdrawals can be made at any Bank of America.

For more information call 1-800-729-7307, or visit the Lutheran Credit Union Web site at www.lcua.org.